Happy Gardening
Styling Tip for your Terrace

Choose beautiful Festival Colour combinations which match your cheerful cushions perfectly. Your terrace will be extra festive with such a colourful match.

Inviting Corner

Gather the brightest flower pots, plant various sorts of Festival Colours violets in them and create a vibrant and inviting corner. Isn't this a beautiful place to relax in the autumn sun?
Indian Summer
Treat yourself and your garden to colourful plants one last time. Autumn is moving in and in between the falling leaves Festival Colours brings wondewrful colours to your garden. Doesn't that cheer you up? What about a combination of violets & chrysanthemums? Spice it up with our Parade mixes in which we combine at least 3 different varieties. A real treat for your terrace or front door! From September to November you can find these border mixes at the florist, garden center, D.I.Y. store and various chain stores.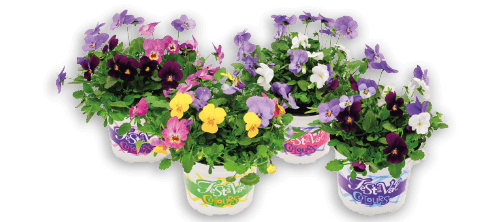 Viola
ø12
Let violas cheer you up during the last cold days of winter! These violas (pot size 12 cm) fit every terrace or balcony pot. Don't plant them too far apart; this way you can enjoy an abundant display of colours right away.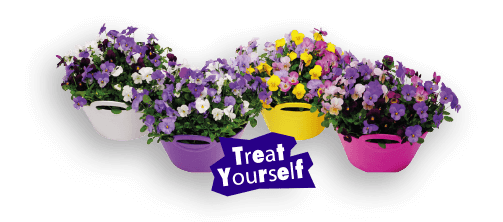 Viola
Bowl
ø23
Violas are frost-resistant – you can put such a cheerful bowl on your garden table right away. How about cheering up your neighbour with this beautiful bowl? It will undoubtedly be appreciated!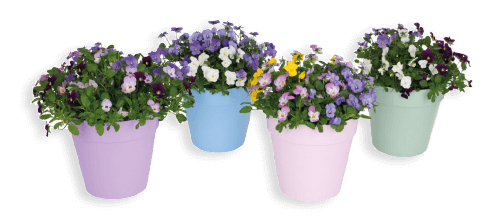 Viola
Aqua Easy
L ø21
This decorative pot can be used as terrace pot but with a simple set of ropes you can turn it into a hanging planter. The pot has a water reservoir and doesn't need much watering. If the water reservoir is full, it will automatically run over.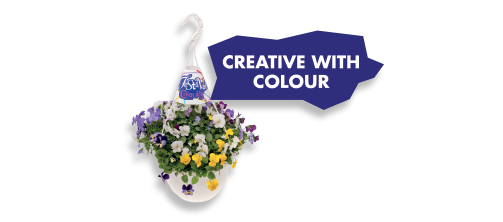 Viola
Surprise
ø25cm
It is always a thrill discovering how many different colours of violas there are in this pot… Are you ready to be surprised?
Exceptionally long-lasting pleasure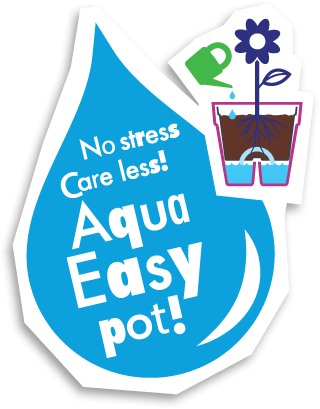 This is Easy!

Clever: a pot with a water reservoir. During dry weather a water wick draws water and provides the plants with it. During rain the reservoir runs over automatically. It has never been easier to take care of your plants.

Aqua-Easy, the pot that waters your plants!

The Aqua-Easy pot has a large water reservoir.

Aqua-Easy, the pot that waters your plants!

Don't forget to check the water level regularly. If necessary, add water.

Aqua-Easy, the pot that waters your plants!

Through the water wick the roots of the plant absorb water from the reservoir when they need it.

Aqua-Easy, the pot that waters your plants!

You don't have to be afraid of watering your plants too much. The excessive water will run over due to the overflow mechanism of the pot.

Aqua-Easy, the pot that waters your plants!

Enjoy your beautiful plant for a long time!