Happy Gardening
Styling Tip for your Terrace

Choose beautiful Festival Colour combinations which match your cheerful cushions perfectly. Your terrace will be extra festive with such a colourful match.

Don't forget to water

On warm days your pot and border plants need extra water. Make sure to check if the soil is moist. Water the plants in the morning, so they can drink during the day.
Sensational Summer:
Treat your garden to colourful border plants
And both of you will cheer up!
Summer is in full swing. In between all the green Festival Colours will bring colour to your garden in a jiffy; for instance with Verbena, Calibrachoa, Petunia, Lobelia, Bacopa and Nemesia. Spice it up with our Parade mixes in which we combine at least 3 different varieties. A real treat for your flower pots! From June to September you can find these border mixes at the florist, garden center, D.I.Y. store and various chain stores.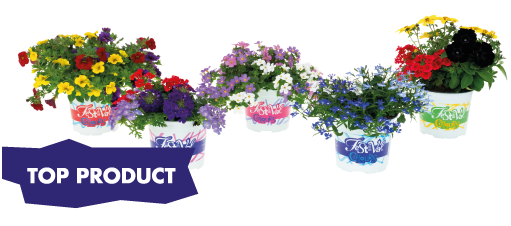 Bedding
ø12
These bedding plants (pot 12 cm) are an asset to every terrace pot or balcony planter. You can choose between more than 25 different combinations. Don't plant them too far apart; this way you can enjoy an abundant display of colours right away.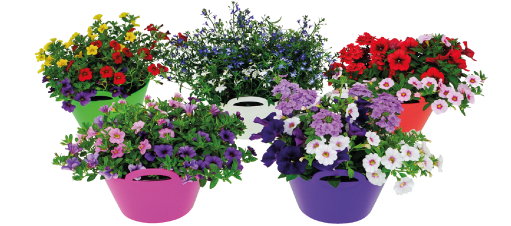 Bedding
ø23
This bowl is a real eye-catcher for your garden table. Available in various colours, all of them bright and attractive. How about a cup of coffee?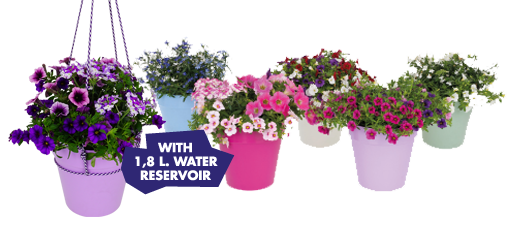 Bedding Aqua Easy
L ø21
This decorative pot can be used as terrace pot but with a simple set of ropes you can also turn it into a hanging planter. The pot has a water reservoir and doesn't need much watering. If the water reservoir is full, it will automatically run over.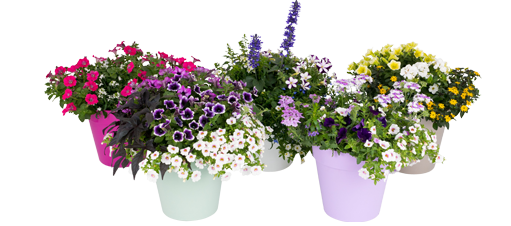 Bedding Aqua Easy
XL ø30
You're very busy but you want to be able to enjoy your terrace as soon as possible? Treat yourself and your terrace to this large terrace pot filled with flowers. It will transform your terrace into your own colourful retreat in a jiffy!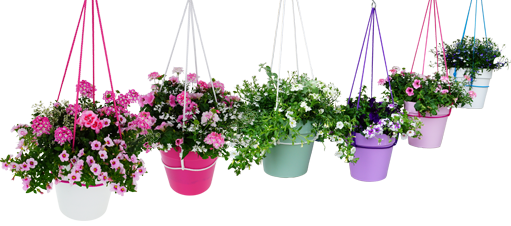 Bedding Aqua Easy
XL ø30
Yes, it's true: they just hang around. But these garden flowers do it in a magnificent way!
Festival Colours are at their best when you choose a position in the half shade (alternately sun and shadow). Fill up the water reservoir regularly, especially on warm days when the plants are very thirsty.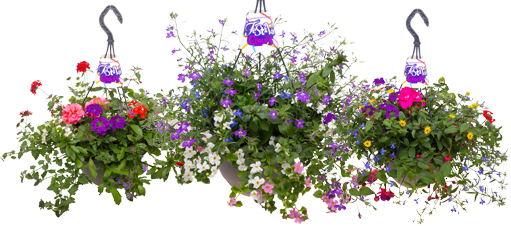 Bedding Surprise
ø27
It is always a thrill to discover just how many colours and forms there are in this pot. Expect to be wowed by the Fuchsia bells in pink and white: an extraordinary sight!
Exceptionally long-lasting pleasure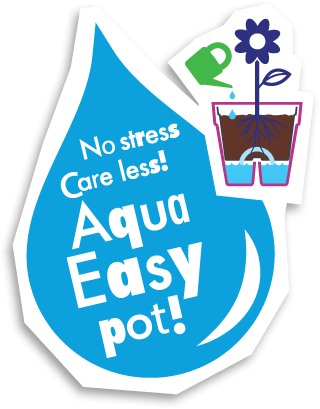 This is Easy!

Clever: a pot with a water reservoir. During dry weather a water wick draws water and provides the plants with it. During rain the reservoir runs over automatically. It has never been easier to take care of your plants.

Aqua-Easy, the pot that waters your plants!

The Aqua-Easy pot has a large water reservoir.

Aqua-Easy, the pot that waters your plants!

Don't forget to check the water level regularly. If necessary, add water.

Aqua-Easy, the pot that waters your plants!

Through the water wick the roots of the plant absorb water from the reservoir when they need it.

Aqua-Easy, the pot that waters your plants!

You don't have to be afraid of watering your plants too much. The excessive water will run over due to the overflow mechanism of the pot.

Aqua-Easy, the pot that waters your plants!

Enjoy your beautiful plant for a long time!